Eyelid Surgery in Fort Myers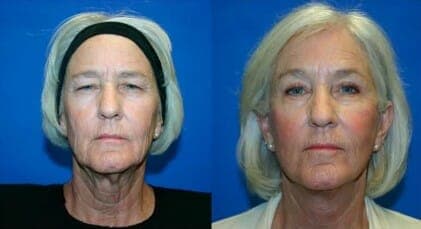 Want to get an eyelid lift in Fort Myers? Loose skin around the eyes can make you look older than you feel. Blepharoplasty, or eyelid lift, is a surgery that reduces the skin around the eyes and makes patients look more alert and youthful. Eyelid skin is thin and is often the first area to show the signs of aging. The results of aging on the eyelids are:
Excess skin weighing down the eyelid and covering the eye
Bulging excess fat on the upper and/or lower eyelids
A tired or angry look
These concerns can often be addressed with upper and/or lower lid blepharoplasty (eyelid surgery).
Upper Eyelid Surgery (Blepharoplasty)
By removing excess skin and occasionally a little bit of fat the youthful crease of the upper lid can be restored. Removing hanging, drooping skin opens up the eyes creating a rested, energetic look. This is accomplished easily with the procedure performed in the office under local anesthesia or in the outpatient surgical center under IV sedation anesthesia. The sutures rest in the natural crease of the upper eyelid. You can return to work or play three to seven days following an upper lid blepharoplasty.
Lower Eyelidplasty (Blepharoplasty)
The lower lids often have lax skin and occasionally protruding fat. These can be addressed yielding a tighter more youthful appearance. It is paramount to accomplish this without any distortion to the lower lid itself. Dr. Stevens performs all the different forms of lower lid surgery and will tailor his recommendations according to your needs and anatomy. You can return to work or play in three to seven following lower lid blepharoplasty.
Eyelid Surgery Cost
Blepharoplasty is customized according to your individual needs. During your initial surgical consultation, Dr. Stevens will evaluate your facial anatomy, looking at your unique characteristics and specific areas of concern, and design a custom treatment plan to deliver your desired outcomes. The total cost of your treatment will be determined by the scope of your surgery — in other words, how much skin, fat and muscle must be removed and/or tightened.
A member of our team will discuss your blepharoplasty pricing quote to ensure you understand exactly what is included. Remember that there are fees beyond the surgeon's fees, including facility and anesthesia-related expenses.
Occasionally, Dr. Stevens recommends incorporating other procedures, such as brow lift, into the blepharoplasty treatment plan. This enhances the overall outcomes while adding to the costs.
Frequently Asked Questions of Eyelid Surgery
Is there a non-surgical alternative to eyelid lift?
There are several non-surgical options for rejuvenating the eyelids, however, none achieve the rejuvenating and long-lasting results that traditional eyelid lift does. Dermal fillers can improve the appearance of the lower eyelids by restoring volume to under eye hollows or circles, while Botox softens the appearance of crow's feet. Laser skin resurfacing procedures can address fine lines and tighten very mildly loose skin on the eyelids. It's important for patients to understand that results with non-surgical procedures are temporary. In addition, non-surgical alternatives are appropriate for patients with very mild cosmetic concerns who desire a subtle tweak to their appearance. Surgical eyelid lift is best for patients who desire the most comprehensive and long-lasting results.
My eyes are different sizes. Can eyelid surgery be performed on one eye to make it even with the other?
In some cases, eyelid surgery can be performed to make the eyes look appear more symmetrical. The exact technique used will depend on the root of the problem. An in-person evaluation is needed to determine whether eyelid surgery or another procedure can treat asymmetrical eyes.
What should I expect during recovery?
Every patient recovers at their own pace, but most are able to return to work and resume most normal activities one to two weeks after surgery. At this point, the majority of swelling has resolved and sutures have been removed. It may take several months up to a year for residual swelling to dissipate and the final results to become visible. Dr. Stevens will provide you with a detailed list of instructions to following during your recovery period.
What are the potential complications of blepharoplasty?
Potential complications with blepharoplasty are rare but include excessive bleeding, poor wound healing, dry eye, unfavorable scarring, difficulty closing the eyes and infection.
The best way to decrease your risk of complications is by working with a board certified plastic surgeon who has years of training and experience, like Dr. Stevens. The surgeon will review the risks of eyelid lift during your consultation and explain the steps he takes to minimize the chance of complications.
How much does eyelid surgery cost?
Like other plastic surgery procedures, the cost of eyelid surgery depends on several factors including the degree of correction needed, whether the upper eyelids, lower eyelids or both are being treated, the techniques used, and whether another procedure is being incorporated into the operation. In addition, health insurance may cover a portion or all of the cost of upper eyelid surgery, if it is deemed medically necessary. Our team can provide you detailed information about the cost of eyelid surgery during a personal consultation.
Schedule a Consultation
Local Fort Myers blepharoplasty patients can call or email the office to set up their first consultation. The doctor looks forward to seeing you.