FaceTite & AccuTite in Fort Myers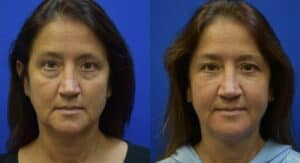 AccuTite and FaceTite from InMode provide facial contouring and skin contraction with results similar to a facelift. In the trusted hands of Fort Myers facial plastic surgeon Douglas Stevens, MD, these minimally invasive treatments utilize the power of radiofrequency energy to melt fat and tighten loose skin around the face and neck.
Thanks to FaceTite and AccuTite, you can look younger and feel more attractive without the time and expense of surgery. Treatment can be conveniently performed in our office without general anesthesia, sedation, pain or discomfort. Results can be seen quickly and last for a very long time, and there is no conspicuous scarring.
What Can FaceTite and AccuTite Treat?

FaceTite and AccuTite can treat the following areas of the face:
Aging in the region around the eyes
Nasolabial folds
Marionette lines
Fat underneath the chin
Poorly defined jawline
Sagging neck skin
Although AccuTite and FaceTite are part of the same family of products, and very similar in nature, AccuTite is generally used to address harder-to-reach areas of the face.
Treatment Details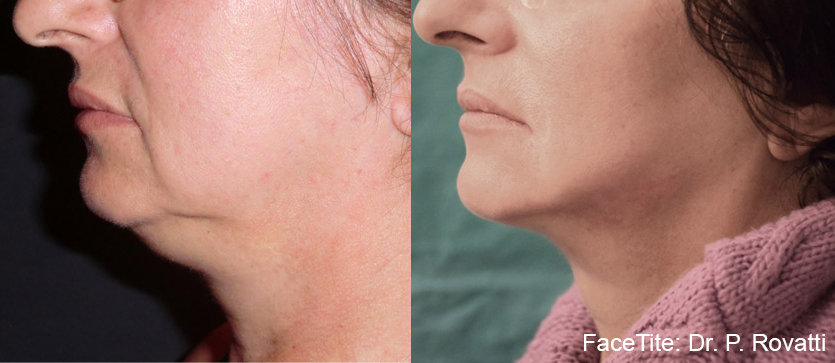 The first step toward AccuTite or FaceTite treatment is a consultation with Dr. Stevens to determine whether you are a suitable candidate.
AccuTite and FaceTite treatments are performed in the comfort of our office. Treatment usually takes 30 minutes to one and a half hours.
First, the target area is cleansed and prepped for treatment. Dr. Stevens marks the areas of the face and/or neck to be treated. Local anesthetic is administered to prevent you from feeling anything as Dr. Stevens works.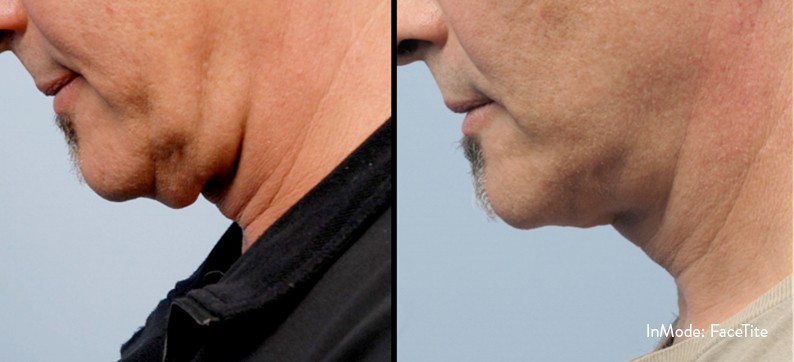 AccuTite and FaceTite use double-sided probes to deliver highly controlled radiofrequency energy both externally and internally. One side of the probe is inserted under the skin and the other moves over the surface of the skin. The radiofrequency energy produces heat that liquefies fat (which is later absorbed by the body or removed via cannula) and induces new collagen and elastin production for firmer, thicker-looking skin. Built-in safeguards measure the temperature of your skin and tissue to prevent complications.
FaceTite & AccuTite Recovery and Results
When radiofrequency treatment is performed correctly, the recovery is very short. Side effects can include mild swelling, redness and a tingling sensation — however, these effects typically resolve within a few days of treatment. You can resume most day-to-day activities shortly, as long as you avoid strenuous physical activity immediately after treatment.
Initial results can be seen almost immediately, continuing to improve in the following weeks and months. Results may continue to improve for up to 12 months as natural collagen production increases.
Learn More About FaceTite and AccuTite
If you are thinking about undergoing a non-surgical facial rejuvenation procedure, you want to be assured that your treatment will be performed safely and effectively for the best results.
Patients seeking expert facial rejuvenation in Fort Myers and the surrounding areas place their trust in Dr. Douglas Stevens and his suite of technologically advanced treatments. To discuss your own facial rejuvenation desires and goals, please request a consultation with Dr. Stevens today.