Evoke Facial Rejuvenation in Fort Myers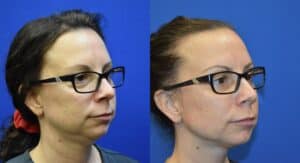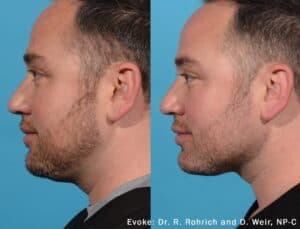 The aging process is not kind to the cheeks, jawline and neck. With age, cheek fat can become displaced, falling lower on the face, and the tissues and skin of the jawline and neck can lose their taut quality. Sagging cheeks, jowls and heaviness under the chin can detract from an otherwise attractive and pleasant looking face.
If your lower face or neck has succumbed to the effects of aging, you do not have to undergo surgery to recapture a more attractive appearance. Dr. Douglas Stevens and our team offer several industry-leading, non-surgical technologies that can remodel your cheeks, chin and neck without anesthesia, surgical scars or downtime.
One of the most promising of these treatments is Evoke, which destroys fat and tightens the skin, creating more youthful contours. Evoke treatment is safe and comfortable, can be completed quickly and requires no downtime. Within a few treatment sessions, you will start to see the tighter, more defined jawline and neck you desire.
How Does Evoke Facial Rejuvenation Work?
Evoke treatment leverages the power of radiofrequency energy to add definition and a youthful, elegant quality to the lower face and neck. When the radiofrequency energy is directed at the deep layers of the facial structures, it creates a thermal response that melts fat, tightens the tissues and tones the overlying skin.
You are likely to see great results with Evoke if you are bothered by any of the following signs of aging:
Excess submental (under the chin) fat
Jowls
Lack of definition along the jawline
Loose skin and unwanted fat on the neck
Evoke radiofrequency-based technology is safe for all skin colors and types.
Treatment Details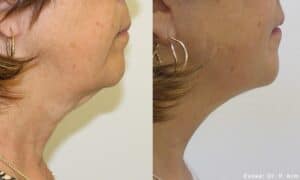 Evoke is a quick treatment that usually takes 30 to 60 minutes, so you can easily schedule an appointment on your lunch break. During treatment, you can read a book, watch television, use your smartphone or simply relax as the treatment applicator works on your lower face or neck. You should not feel any pain; some patients describe the contraction-like sensations felt during treatment as similar to a facial massage.
The Evoke treatment applicator is hands-free; once it is positioned around your head and neck, it can target the pre-determined treatment areas on its own without someone controlling it. Built-in temperature controls ensure the Evoke device works safely and effectively, without causing any burns or discomfort.
After treatment, you can immediately return to your normal activities with no downtime needed.
Most patients need a series of treatments in order to achieve the desired facial rejuvenation results. Dr. Stevens and our team will consult with you to identify your concerns and customize a treatment plan with the optimal number of sessions. Expect to see gradual improvement in the treated area after your first few treatment sessions.
Look and Feel Younger With Evoke Facial Rejuvenation
If you are interested in rejuvenating your cheeks, jawline or neck without surgery, anesthesia or scarring, Evoke may be right for you. Contact our practice to request an appointment with Dr. Stevens to discuss this remarkable technology. Call or email us today.