Microblading Eyebrow Makeup in Fort Myers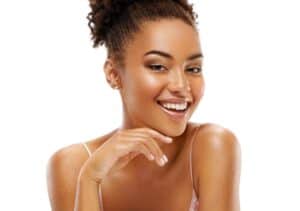 Bold brows are a highly desirable attribute that frames one of your most important assets: your eyes. Unfortunately, statement eyebrows weren't always in style. In fact, if you grew up in the '90s, there is a good chance you over-plucked or waxed your brows just to stay current with the trends.
Don't let the sins of your past prevent you from enjoying thick, beautiful brows. Consider microblading — a game-changing treatment that fills out skinny, scraggly or asymmetrical brows — with the beauty experts at the practice of Dr. Douglas Stevens. In two hours or less, you can reclaim gorgeous brows that do not require any daily upkeep.
What Is Microblading?
Microblading is a form of semi-permanent makeup. It uses a small, handheld instrument to make hair-like strokes in the skin, creating the illusion of fuller brows. It can enhance naturally light or fine brows, or brows that have become thin or patchy from over-tweezing or over-waxing. The microblading process is quick and virtually painless, thanks to numbing cream and our team's gentle touch. Best of all, the results can last up to a year or more.
What to Expect During Microblading
Prior to treatment, your brows will be cleaned and numbed with a topical cream to prevent discomfort. You will discuss your desired brow shape and style with our licensed tattoo artist, and she will map out the shape of your brows using a pencil. You will have the chance to preview your planned brow shape and suggest modifications.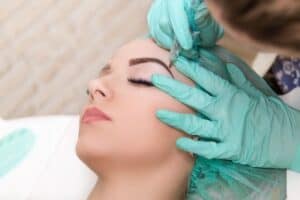 Once you are happy with the planned shape, the tattoo artist will pick a pigment to match your desired brow color. Then, she will use a special handheld instrument with ultra-fine needles to gently etch hair-like strokes and implant pigment in the superficial layers of your skin. Her attention to detail and methodical approach ensure a symmetrical and even shape.
After implanting the pigment into your skin, the tattoo artist will wipe off your brows to remove any excess pigment. The entire process takes one to two hours, on average.
Microblading Aftercare
You can resume almost all of your normal activities immediately after your microblading appointment, as long as you avoid sweating or getting your brows wet. Cleanse the skin around your brows for about a week., keeping water and products away from them. Refrain from working out during this time.
Your brows may feel sore initially after treatment, but this should only last a few hours. You may notice that your brows appear darker or thicker than you'd like for two to three days after treatment. Don't worry: your brows will lighten after the initial treatment by as much as 50 percent. To ensure a shade and shape you love, we will ask you to come back for a touch-up treatment about four weeks after your initial appointment. During the touch-up treatment, we can refine or darken any areas that need it.
After the touch-up treatment, most patients return on a yearly basis to maintain the results. Depending on your skin type, you may need to come in more or less frequently.
Learn More About Microblading
If you would like to wake up with natural, full brows instead of committing to daily upkeep with pencils or brow powders, microblading may be right for you. Request more information from our team today.